Goulding's Lodge Hosts German and American Cultural Exchange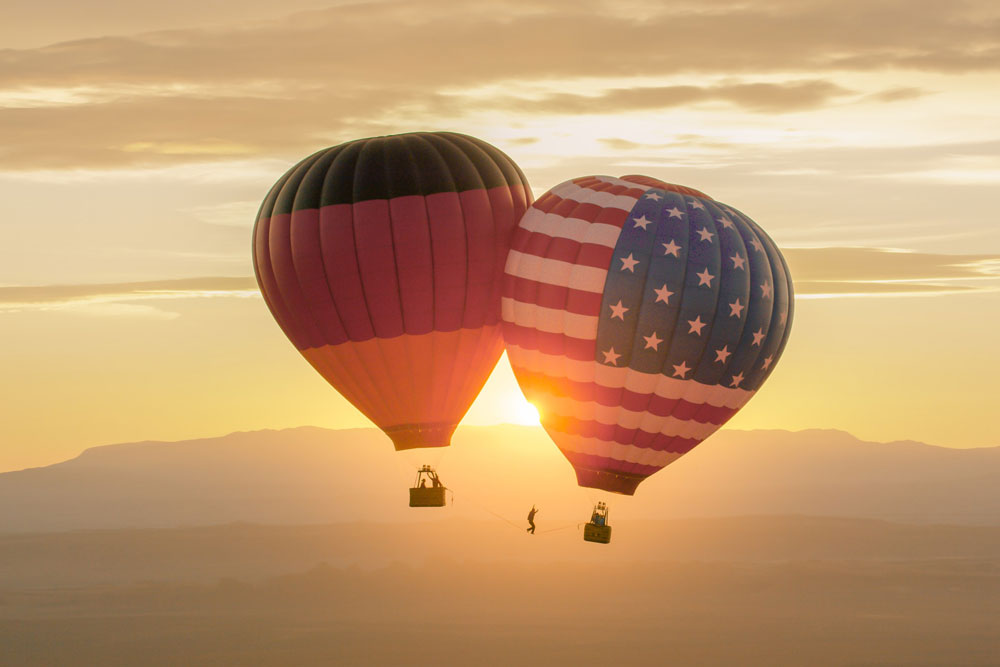 Extreme Athletes Connect Germany and America in Symbolic Sky-High Hot Air Balloon Bridge
Set high above Monument Valley's stunning sandstone structures, two German athletes set out to unite Germany and America in a thrilling event. On October 25, 2018, Alexander Schulz and Niklas Winter walked along a one-inch belt at about 2,500 feet in the air. The belt was suspended between two hot air balloons, one wrapped in the German flag and the other wrapped in the American flag.
The symbolic slackline bridge is part of "Deutschlandjahr 2018/19" (Germany year), a year-long celebration honoring the relationship between Germany and America. The German-American cultural exchange is sponsored by the German Foreign Ministry, the Goethe Institute and the Federation of German Industries (BDI).
Representatives from these organizations were on-hand to support the event, including Christoph Mücher, Director, Deutschlandjahr USA, and Goethe Institut; Markus Sporkmann, Video Journalist, Deutschlandjahr USA, and Goethe Institut; and Alina Burkholder, Coordinator, Public Diplomacy Campaign 2018/19, Embassy of the Federal Republic of Germany.
In conjunction with the celebration, the Munich-based creative agency One Inch Dreams, along with German camera systems manufacturer ARRI and SHOTOVER camera stabilizing technology, documented the event and plans to document others held across the country. The film project is dubbed #buildingbridges and the message is "wunderbar together." Once complete, the film will be available on all of the organizers' platforms, including on One Inch Dreams and Goulding's Lodge.
No stranger to hosting film crews, Goulding's was proud to host the German athletes, their support staff and the film crew during the event production. Goulding's Lodge IS Monument Valley, helping to put the iconic southwestern sights on the map through countless Western films.
"This was such an exciting event and a great opportunity to bring different cultures together – American, Navajo, and German," said Goulding's Lodge Sales and Marketing Director Monica LaFont. "We were so happy to be able to play a small role in helping to make it happen, and it was so exciting to watch!"