Frequently&nbspAsked Questions
Frequently
Asked Questions
General Questions
How late can we check-in
Check-in at any time, we have a 24-hour front desk.
When is the latest time we can check-out?
Check out is at 11:00am. Late check-out can be arranged for an additional charge.
Is wifi Free? Does the wifi work in the rooms?
Yes, WiFi is free and you will be provided login information upon check-in.
Do you have pet friendly rooms?
We do allow pets for a fee of $20.00 per pet, per night.
What address to we enter into our GPS?
1000 Goulding's Trading Post Road.
Do you provide coffee in the room?
Keurig coffee machines and pods are available in each room.
Do you have any toothbrush or toothpaste?
Available at our Grocery Store or Gas Station.
Are there extra towels/ pillow in the room?
Each room has 1 extra pillow, if you need more please inform the reservation or front desk staff.
Are there ice in the rooms?
Rooms with mini fridge have a designated location nearby for ice and vending machines. Villas, Apartments and Houses have refrigerators with ice machines.
How many sets of dinnerware is provided in the houses? Is there any cookware in the hillsides?
6 sets of dinnerware are available in each apartment, house or villa. If you need more please inform the reservation or front desk staff. 
Are roll-away beds available?
Roll-away beds are available for specific room types.
What channels do you provide in the room?
Our channels are provided by Dish Network and there are approximately 200.
Do you provide restaurant menus in the rooms?
Yes, menus are available inside our guest directory.
Is there a pool near our room?
The indoor pool is located on the main hotel grounds near the Front Desk. There is not a pool at the Villas. Access to the lodge swimming pool with your room keys.
Is there room service?
We do not have room service.
Are the rooms non-smoking?
All rooms are non-smoking, Utah State Law.
Are there refrigerators and microwaves in the rooms?
All rooms lodge rooms have a mini fridge but no microwave, villas, houses, and apartments have full fridge and microwave.
Why is there restrictions if you have a service dog for any rooms that are provided?
Services animals with proper documentation are not charged a fee. We have designated rooms for pets/service animals. Many guests have allergies to animals so we do not allow animals in every room.
Is parking free?
Parking is free of charge.
Do you give government rate?
We do not have a government rate.
What is your child age?
Child age has changed to 2 – 11 years old.
Tour Questions
What type of tour vehicles to do you have?
20 passenger open-sir "safari type" vehicles.
Do you provide night tours? or Photography tours?
Custom tours can be arranged but are not regularly scheduled activities. Please contact sales@gouldings.com.
Do you have a pet babysitter while I go on tour?
We do not have this service available.
Do you provide senior citizens discount for tours?
We do not offer any discounts for tours at this time.
Can we take our personal vehicle, but take a guide?
We can not provide step on guide service per park regulations.
On the tours, do you get and walk around?
Each tour has designed stops where you can walk around the area. Stops are normally 10 minutes in length.
Are there restroom stops on the tour?
There are restroom facilities inside the park, speak with your guide for the next available stop.
Are there any hiking tour available?
Hiking tours can be arranged but are not regularly scheduled activities. Please contact sales@gouldings.com
Is the park a National Park?
Monument Valley is a Navajo Tribal Park.
When is the park open and when does it close?
Normal park hours are 7:00am – 7:00pm. Entry fee booth is open 7:00am – 5:00pm Closed on Holidays but can be seen by booking a guided tour.
What is the cost to enter the park?
Currently $20.00 per vehicle up to 4 persons. $6.00 each additional person. Commercial vehicles have a higher price. Please visit Navajo Nation Parks for more information.
Where is Forest Gump Hill?
"Gump Hill" is located approximately 13 miles northeast of Monument Valley on US Highway 163.
Where is the visitor center?
The Monument Valley Tribal Park is located approximately 5 miles southeast of Goulding's property.
Where is the best place to see the sunrise and the sunset?
The most common place to watch the sunrise and sunset are from Goulding's property or from the Monument Valley visitor center.
What are the other places to visit besides Monument Valley Park?
Navajo National Monument, Goosenecks State Park, Valley of the Gods, Muley Point, Natural Bridges all about 30 minutes away.
Property Questions
Do you have laundry facilities?
We do have a laundromat on the property.
Where are the nearest ATM machines?
ATM machines located in the Gift Shop, Gas Station and Grocery Store.
Do you have hiking trails?
Yes, we have hiking trails throughout the property. Map of the trails is available at front desk.
Do you have a pharmacy here?
No Pharmacy. Nearest ones are in Page, AZ, Flagstaff, AZ,  or Cortez, CO.
Do you have a restaurant?
Yes, the Stagecoach Restaurant.
What other restaurant are available in the area?
3 in Mexican Hat, 3 in Kayenta, 2 in Monument Valley, and various fast food restaurants in Kayenta.
Where is the nearest airport?
Page, Flagstaff, and Cortez Municipal Airports are the closest. Phoenix, Salt Lake City, Las Vegas are the nearest international airports.
Do you provide shuttle service to the nearest international airport?
Shuttle services can be arranged, please contact sales@gouldings.com for more information.
Can you walk around and drink alcohol on the property?
Alcohol is illegal on the Navajo Indian reservation. Goulding's Lodge is private property but observes Navajo Nation law.
Where is the nearest place we can get alcohol?
Beer in Mexican Hat.
Are there elevators?
No, there are no elevators. 
Do you have a hot tub? Or spa?
No, but there is a heated indoor pool for your enjoyment.
What cell service provider works out there?
Most major carriers with long-term contracts. Prepaid services normally do not work.
What is the weather like?
June – August are normally the hottest months of the year averaging 90-95 degrees F. Hottest temperatures are in late July – early August Record high is 106 F (July 1967).
How cold does it get in the winter?
December and January are normally the coldest months. Lows average 15- 20 degrees. The record low is -11 degrees F (January 1963 & November 1985).
Can you eat in the theater?
Yes, there are no snacks or popcorn provided so you must bring your own.
Where can we get stamps?
Stamps are available in the Gift Shop.
Does the mail go out today?
Mail go outs daily (M-F) at 11:00am from the local post office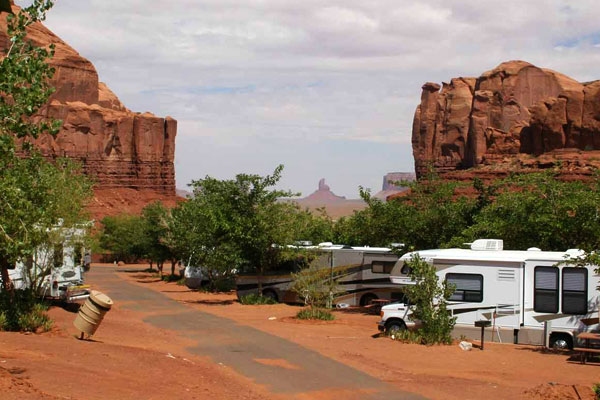 Reserve Your RV Spot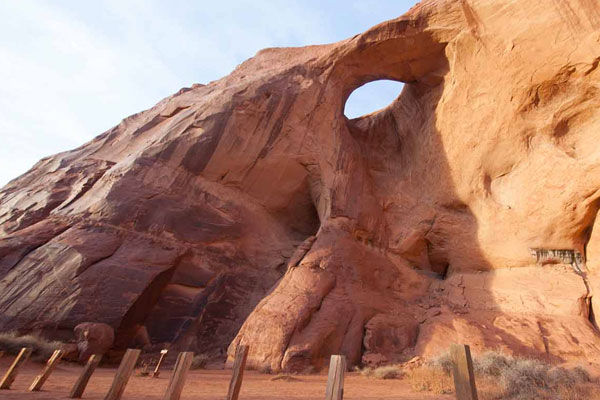 Take A Tour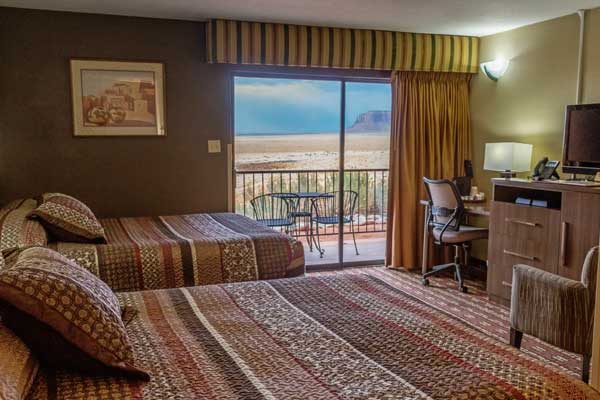 Reserve Your Room