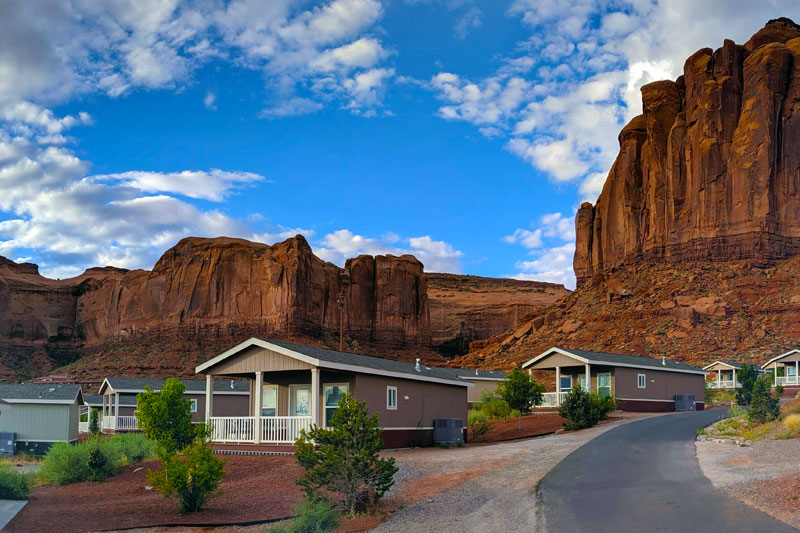 Monument Valley is without a doubt a place that can make you forget everything with its enchanting natural beauty. The region offers cinematic beauty that's loaded with spectacular views and stunning spots. The easy-to-hire and furnished apartments and villas in Monument Valley have turned the place into a must-visit touring spot.  
Goulding's Resort Hillside Villas, for example, offers an amazingly tranquil and quiet setting to the visitors. Located at the edge of the beautiful Monument Valley, it provides tourists with a memorable Southwest experience that is full of relaxation, beauty, and hospitality.
Why You Should Stay at Goulding's Resort Hillside Villas
What is better than waking up in a room that exudes observable vibes of modern architecture surrounded by the magnificence of Monument Valley?  
Goulding's Resort Hillside Villas are designed with some smart architectural features. If you are looking for staying in amenity-rich huge bedrooms, the cozy villas are for you. From king-size bedroom to a hot mug of coffee, Goulding's Resort Hillside Villas allow you to enjoy a homely comfort. It helps you explore and relax at the exotic locations of Monument Valley by making sure you get all the services and facilities you need during your stay.
The villas offer a stunning view of sunrise and sunset when you look out from the window. What makes Goulding's Resort Hillside Villas stand out from the hotels is their size, coziness, and comfort. Just like ancient Roman villas which used to be owned by rich citizens, Goulding's Resort Hillside Villas have the palatial feel. They mimic the same design but are smaller in size.
Benefits of Staying in Goulding's Resort Hillside Villas
The stand-alone Goulding's Resort Hillside Villas are 580 sq.ft of living space. They are private bedrooms that offer visitors space and privacy. After taking a Goulding's Tour all you need is a comfortable place to get rest and rejuvenate yourself.
Goulding's Resort Hillside Villas, in this regard, can become your mini-home in Monument Valley when you are away from your own home. You can lie down on the queen-sized bed to take a catnap or use the stocked kitchen to refresh. Make a hot mug of coffee to enjoy on your private patio, an attached outdoor sitting area. The comfy outdoor sitting offers relaxing views of Monument Valley.
The non-smoking one-bedroom villas make the best deal when it is about choosing a private space in the most visited regions like Monument Valley. The amenity-rich villas are not less than the home when it comes to making your stay stress-free and relaxing.
These mini-homes are the best option if you're traveling with your fiancé or newly-wedded wife. From the spacious balconies to a peaceful environment, our villas have everything a couple could expect to enjoy their dreamy honeymoon trip.
Take your special one to Monument Valley and stay in the beautiful and luxurious Goulding's Resort Hillside Villas to make tons of memories.
For more information about Goulding's Resort & Tours in Monument Valley, call 866-313-9769 today or book your room online!