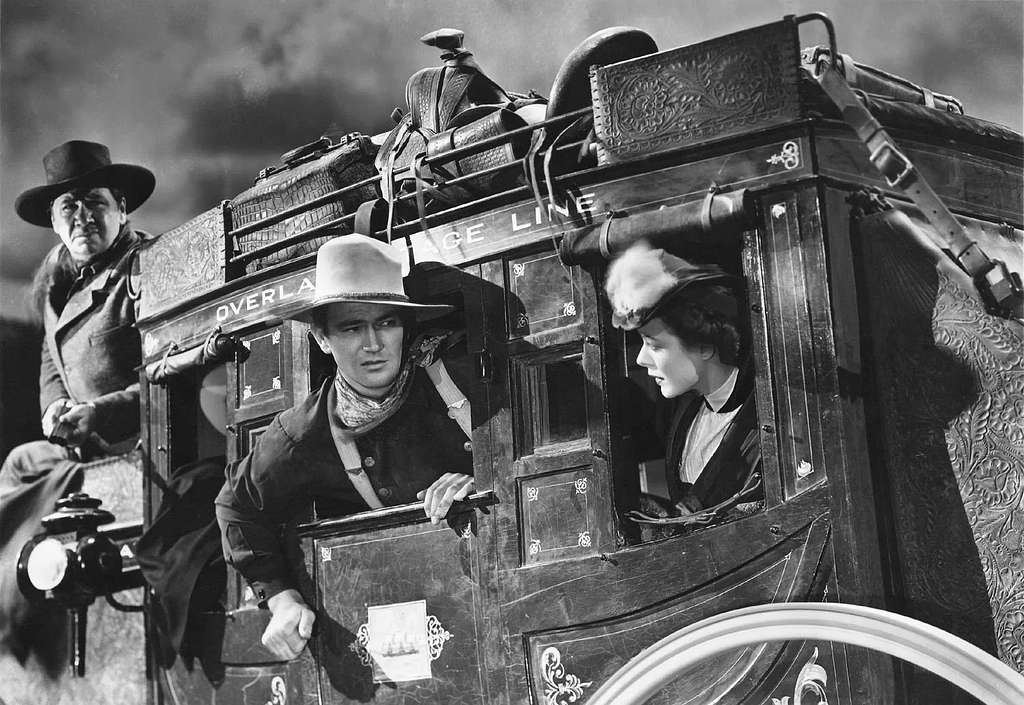 Monument Valley is known for many things – breathtaking views, rich culture, and riveting adventure. But did you know it's also a popular Hollywood filming location for some of the most exciting and romantic movies of all time?
Here are five must-watch romantic movies shot in Monument Valley to add to your list during this month of love.
Stagecoach
Stagecoach follows a group of passengers on the Overland Stagecoach in the 1880s. The journey faces danger from the escaped outlaw, The Ringo Kid, and the threat of an Apache attack as they travel across the Wild West.
Stagecoach was the first of many Westerns shot in Monument Valley and had a lasting influence in making it a famous Hollywood location. John Ford returned so many times to make films here that a popular lookout point is named John Ford's Point in his honor.
This movie makes the love list because of the unlikely love story that unfolds between The Ringo Kid and one of the passengers on the stagecoach, Dallas. An outlaw and a "woman of ill repute" may not be a traditional couple, but you'll find yourself rooting for their love.
Forrest Gump
This 1994 film follows the life of Forrest as he learns many life lessons and experiences several landmark historical events. But, no matter where his life takes him, all he wants is to be back with his true love, Jenny.
After she breaks his heart, Forrest goes running and spends the next three years making his way across the United States. Forrest Gump Point in Monument Valley is the location of the famous scene where Forrest finally stops running and decides to go home.
Forrest's pure devotion and enduring love for Jenny throughout her troubled life are why this movie makes our love list.
Windtalkers
Windtalkers is the story of two Navajo code talkers trained to send and receive coded messages during World War Two They are joined by two soldiers whose assignment is to protect the code talkers but most importantly, to protect the code from falling into enemy hands.
In the last battle of the film, trapped and wounded, Corporal Enders carries the code talker, Yahzee, to safety while sacrificing his own life. Back in the U.S., Yahzee and his family sit atop Point Mesa in Monument Valley to perform a ritual, paying respects to the fallen soldier.
While not a classic romance, this showing of brotherly love and sacrifice puts this movie on our love list.
The Harvey Girls
This 1946 musical romance follows a group of girls traveling to Sandrock, Arizona, to be waitresses when they meet Susan Bradley. Susan is traveling to the same town to marry a man who has won her heart with his beautiful letters.
Unfortunately, the man she meets when she arrives is not what she had imagined, and they call off the wedding. After finding that the letters were actually written as a joke by the local saloon owner, Ned Trent, Susan confronts Ted and they fall in love. Ultimately, they are married, surrounded by the jaw-dropping Monument Valley landscape and all the Harvey Girls.
This classic makes our love list for its upbeat musical atmosphere and amusing enemies to lovers' storyline. It's also a favorite because the "Movie Room" at Gouldings Museum and Trading Post was built initially as the Mess Hall for this film. It now holds memorabilia from many of the movies shot in Monument Valley.
Back to the Future 3
The third and final installment in the Back to the Future series, this 1990 film takes us back to the moments after Doc Brown disappeared in his DeLorean. If you pay attention, you can spot the Monument Valley scenery at several points during the film.
While trying to figure out how to return to the future, Doc saves the town's schoolteacher Clara Clayton and they fall in love. Unable to believe Doc when he tells her he's from the future, Clara leaves him before realizing her true feelings. After nearly falling from a moving train, Doc saves Clara once again, leaving Marty to travel back to the future alone. 
The romance between Doc and Clara transcends time and place and makes the love list because it reminds us that what matters is the future we create together.
Experience the Magic of Monument Valley for Yourself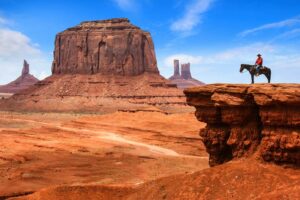 Each of these movies tells a unique love story against the beautiful and majestic backdrop of Monument Valley. 
If you're looking to add a little adventure and romance to your life, Monument Valley is the perfect place. Gouldings offers various fascinating and historical tours that bring this magical place to life.
You'll have the opportunity to see where many of the greats have walked, both fictional and historical, and take in all the romance this land has to offer.