Monument Valley: An RV Destination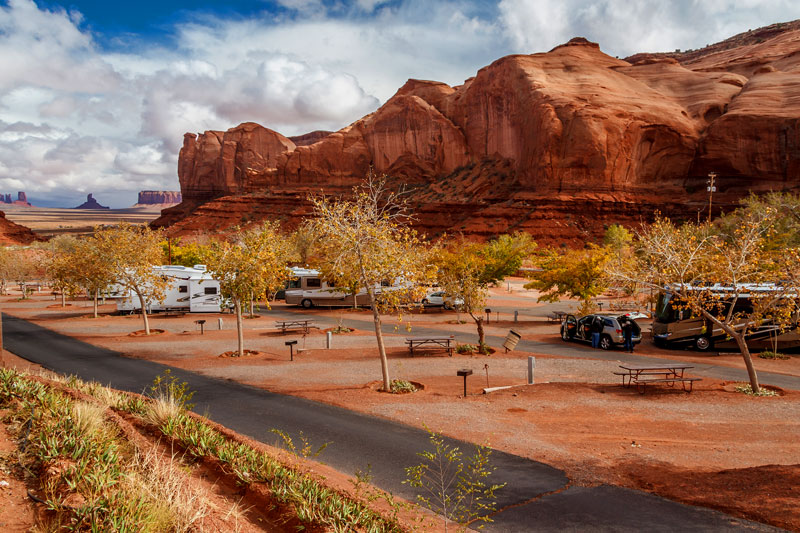 Most RV'ers might have experienced driving along the scenic tree-lined highways or beautiful coastal roads. Why not trying something new such as driving along the enigmatic southwestern region of America? If this sounds like a good plan, nothing can be better than planning an RV trip to picturesque Monument Valley.
Monument Valley offers you a view of teetering structures that take you to another world of beauty. The diversity and magnificence of the towering mountains are unparalleled. Certainly, Goulding's RV & Campgrounds is the best way to experience the most amazing views of Monument Valley.
Goulding's RV & Campgrounds is nestled in Rock Door Canyon and located near many of the Goulding's Resort & Tours amenities including the Goulding's Grocery Store, Laundromat, and Gas Station and Convenience Store. During your visit, enjoy some campfire S'Mores, take a hike on various hiking trails, or just relax and enjoy the panoramic views right from your spot. Surrounded by the scenic views, Goulding's RV & Campgrounds reconnect you with nature and revitalizes your energy.
Goulding's RV & Campgrounds 
What makes Goulding's RV & Campgrounds stand out from other RV parks is its colorful setting. The incredibly beautiful RV and camp spots allow you to experience stunning sunrise views at Monument Valley. Tucked in the serene Rock Door Canyon, you can travel to the Monument Valley Tribal Park a few miles away. 
The necessary equipment required during camping or RV travel is located at each site. Goulding's RV & Campgrounds amenities include full RV hookups, 50-amp service, water, bathrooms, cable TV, grills, picnic tables, complimentary WiFi, beautiful tent sites, and a convenience store for supplies.
Another benefit of staying in Goulding's RV & Campgrounds is that you have access to all attractions of the resort on your RV trip. Meaning, you can visit Goulding's Museum, enjoy scrumptious meals at the Stagecoach Restaurant or purchase souvenirs from the gift shop. Watch a movie filmed in Monument Valley in the Earth Spirit Theatre and beat the heat in the indoor pool.
Goulding's RV & Campgrounds also run a shuttle service to make commute hassle-free between the main resort and RV Park & Campgrounds. And signing up for a Sunrise Tour to Monument Valley Tribal Park is easy, just visit Goulding's RV & Campgrounds office.
Goulding's RV Park & Campgrounds will add something great to your traveling and camping experience with their unparalleled facilities. Cross Monument Valley off your bucket list today! 
Stay with us at Goulding's RV Park & Campgrounds in Monument Valley, call 866-313-9769 today or book online!